All you need to know about Dealsuite 3.0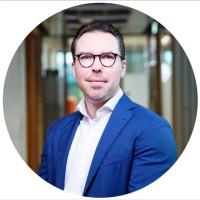 Corstiaan Hesselink
Read the article :
Dealsuite.com is developing rapidly. Most importantly, network size and network activity are increasing fast year over year since our inception. In its wake, the business and platform have grown accordingly as well. And although we push new updates big and small to the platform multiple times a week, Dealsuite's latest update is an important one as it embodies the larger vision we have for M&A deal sourcing for the coming years.
Before getting to the nuts and bolts, we would like to acknowledge two additions to the team that have fast-tracked the implementation of this update. Jeroen joined in January as UI/UX designer and Steven joined in February as Senior Product Owner. Based on extensive user research and feedback, we have put user experience as the centre of our design process and of our future roadmap.
So, what's new?
A new, smoother user experience
Dealsuite has gotten a full visual refresher. The goal, as always, is a more relevant deal flow for our users. The redesign not only enhances some key findings from our user research but also aligns the platform with the roadmap ahead.
It is our aim to create a smooth user experience. This starts with a clear and intuitive user interface. Although software is never finished, this update is a great leap forward in usability generally, and deal discoverability specifically.
Goodbye inbox, hello market.
Until recently, Dealsuite centered around your Inbox. This is where you received the deals that were shared with you. We've deviated from this idea and sunset the inbox, replacing it with a new feature: the Market. The market shows you all deals that other users have made available to you. To be very clear; what did not change is our commitment to the sensitive deal process. This means that all available deals on the market still have been explicitly shared with you by the uploader.

Compared to the old inbox, the market has many more ways to filter all available deals, giving you more control over the relevancy the market offers you. We do this in three primary ways:
- Real-time filtering

- Saved Searches + e-mail notifications

- Better sorting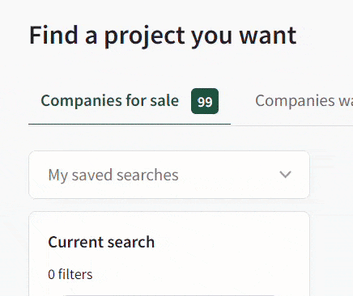 Real-time filtering
We've added a complete search bar to the left of the market that allows you to filter deals on the fly, based on the most important attributes: revenue, region and location, sector and sub-sector, customer type, revenue model, and equity stake. You can also still search by keyword, of course.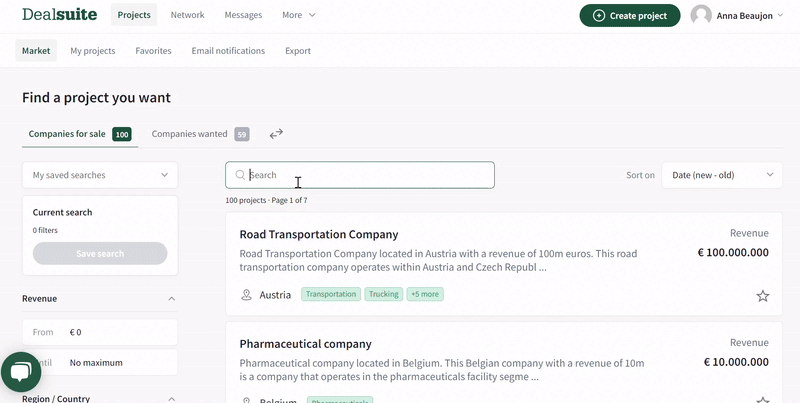 Saved Searches + e-mail notifications
Saved Searches allow you to save and quickly circle back to a specific set of filter criteria, within the context of e.g. a specific deal, project, or client. On top of that, you can enable e-mail notifications based on those saved searches, making sure you never miss a relevant deal. We've also completely redone the daily e-mail notification. Besides a fresh design, the e-mail now also includes a summary of the filter criteria used to populate your e-mail with relevant deals so you always know exactly why a deal ended up in your e-mail and if any tweaks to your saved searches may be needed.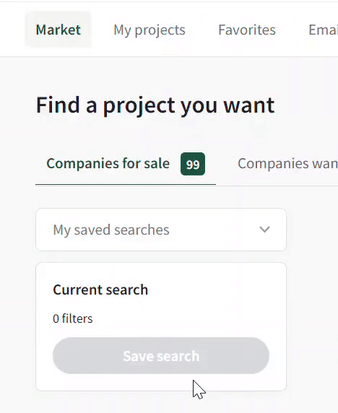 We have also added the option to set notifications daily or weekly on the saved search level, instead of a single setting for all notifications.

Better sorting
The old inbox was sorted by date so the latest deal was always at the top of the list. But with the new market, you can sort deals on a couple of interesting new attributes; deal size and growth rate (CAGR). Sorting by date is still possible, of course. We'll be adding additional sorting options moving forward.

A clean separation between buy and sell-side
In the old inbox, all deals, both buy and sell-side, were lumped together in the same overview. User research identified this as a big issue in quickly getting an overview of the available deals. So we separated buy and sell-side deals into two distinct tabs. This allows you to quickly switch between deal types. This way there's no doubt as to what deal type you're looking at.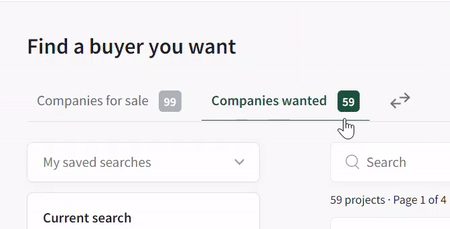 A better view of your projects
The my projects page now also lets you get a complete view of not only your deals but also all deals active within your organization. On top of that we also made it easier to filter your deal by status; active, draft, or closed. The way your projects are organized in a more efficient way.